Hatchless Production / Storage Vessel
Petrosmith is a leader in surface production equipment and has the capabilities and shop capacity to build the largest and most advanced pressure vessels and tanks in the upstream oil and gas industry.  Our innovative engineering and production team has designed and fabricated ASME pressure vessels which combine the functionality of production vessels with the storage capacity of an API 12F tank, all in the same footprint.  We have branded it the TESSEL™ and are proud to introduce it to the industry.
The Petrosmith TESSEL™ is designed to help reduce or eliminate fugitive methane emissions, by elimination of the traditional thief hatch which is normally found on an API 12F or API 650 type of tank.  The TESSEL's™ higher allowable operating pressure, combined with a higher vacuum pressure rating compared to both API 12F and API 650 tanks, allows for more efficient use of a vapor recovery system without a VRT, allowing for improved gas reclamation which prevents it from gathering in tanks and venting through the thief hatch.  For those operators looking to reduce methane emissions and improve overall wellsite efficiency, TESSEL™ could be a key part of your facility design.
Our TESSEL™ allows for vessel surge capacity for tankless facilities with standard sizes of 500bbl, 750bbl, and 1000bbl (nominal sizes).  The traditional vertical orientation allows for direct replacement for existing API 12F tank designs.  The vertical design allows for efficient well pad footprint compared to horizontal surge vessels, as well as more efficient use of fluid volume in a vertical design compared to horizontal surge vessels. ASME Code and Non-code versions are available in both 12' and 15'-6" diameter sizes.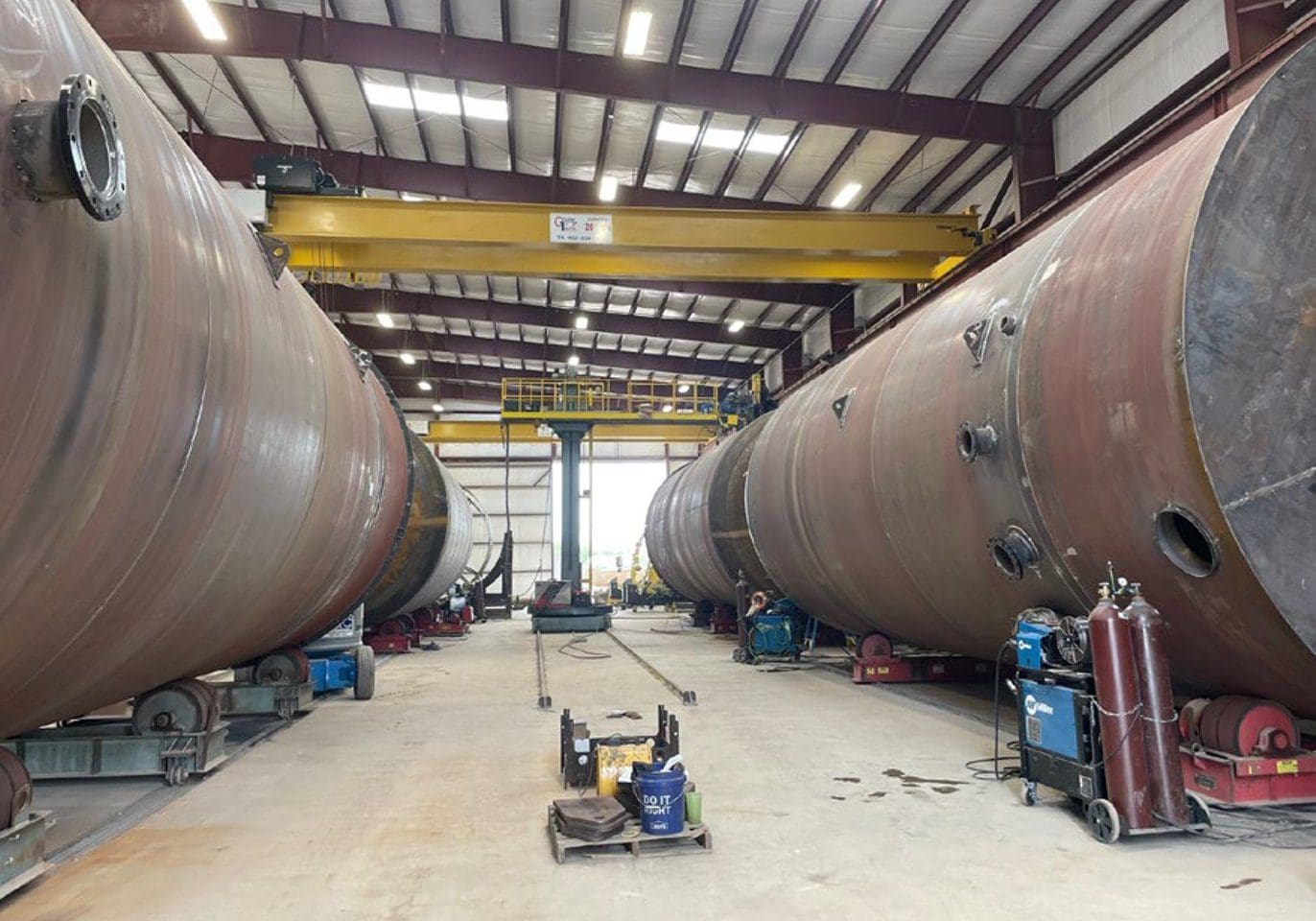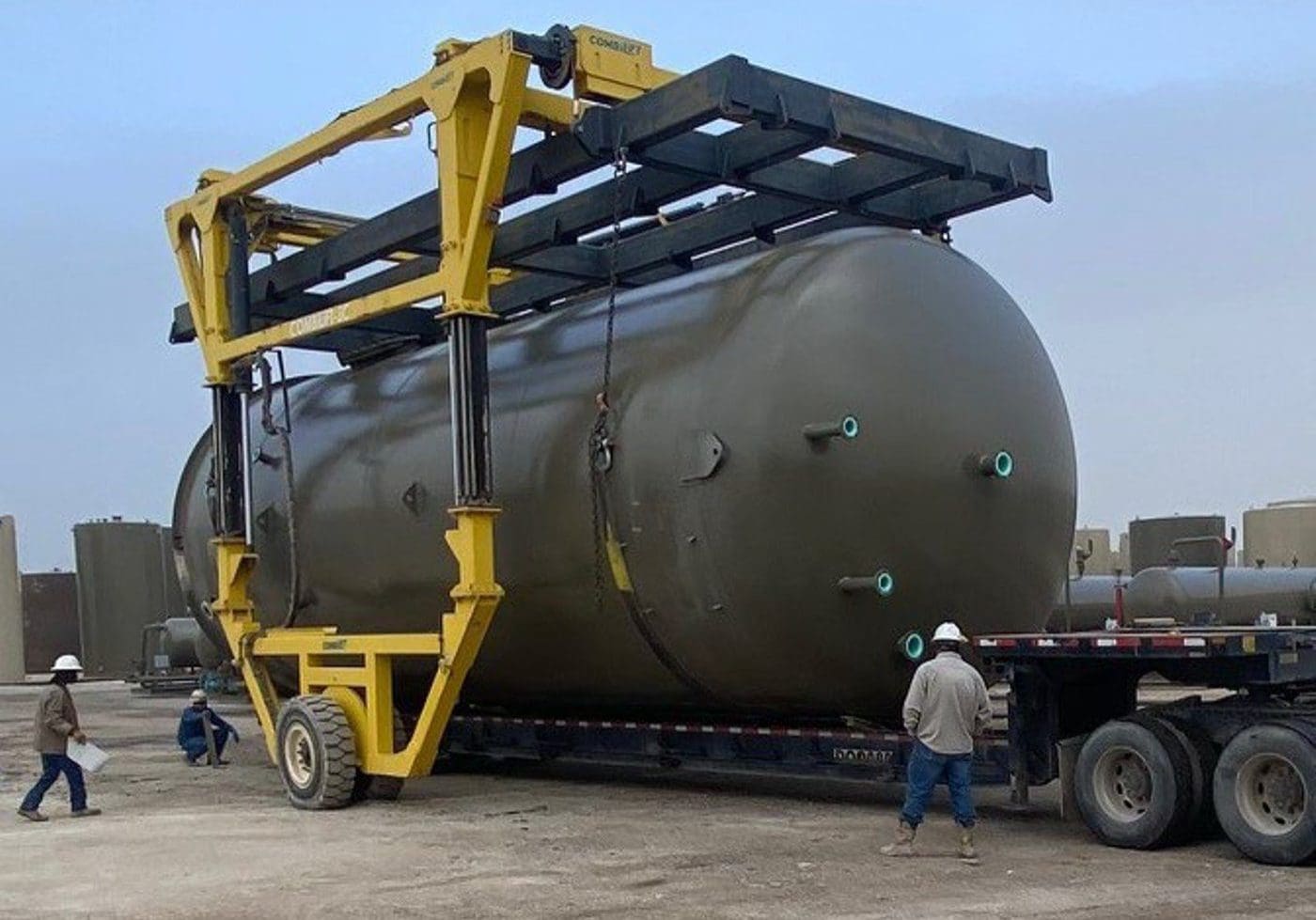 TESSEL™ has several key advantages. Internal pressure rating of 30 PSIG, and external pressure rating (vacuum) of 3 PSIG allows for efficient use with vapor recovery units. Elimination of the traditional thief hatch associated with API 12F tanks allows for fugitive gas emission elimination. Reduction or elimination of gas venting can help reduce or eliminate costly EPA fines associated with new regulations.  Also, more efficient use of the Vapor Recovery Unit (VRU) will allow more gas to go to compression and sales, rather than go to flare, thereby eliminating additional EPA fines.
Additional technical advantages of utilizing a Petrosmith TESSEL™ in your production facility:
Elimination of O2 pull through from the thief hatch, to maintain consistent O2 content
Reduction of the duration for a gas purge operation at start-up
Closed loop system allows for elimination of fugitive gas emissions from the thief hatch
Increased and consistent pump feed with higher net positive pressure available due to higher allowable working pressure, to help feed pressure to the pumps
Increased and more efficient use of the vapor recovery unit by its ability to help maintain a steady and higher suction pressure for the VRU
Higher vacuum rating helps to prevent tank collapse during rapid evacuation of liquid via water pumps or LACT units or recycle pumps
Increased ability for enhanced the recovery of NGL (Natural Gas Liquids) extraction from captured flash gas and residual low-pressure gas
There are also cost advantages of utilizing a TESSEL™ in your production facility:
Elimination of the Vapor Recover Tower, and associated VRT guy wires, foundation, etc.
Elimination of a considerable amount of piping to/from VRT
Elimination of tank containment (user preference) due to the TESSEL™ being part of the production vessel train
Elimination or reduction in fines associated with fugitive gas emissions
Mailing Address
P.O. BOX 6291
Abilene, Texas 79608
West Texas Yard
10512 W County Rd 150
Midland, Texas 79706