Petrosmith manufactures vessels for a variety of oilfield applications with regard to pressure control and product storage. We proudly make custom ASME Code or Non-Code vessels, constructed to the same rigorous quality standards. Our fabrication facilities, which sit on a 35-acre yard, make us capable of building, coating, painting and testing up to 15 vessels per day. We are able to build vessels to client specifications. Our facilities allow for a wide range of sizes, with vessels up to 12 ft. in diameter, 40 ft. in length, and up to 40 tons in weight, with pressure ranges up to 3000 psi. We are capable of providing both bare vessels, or fully accessorized, piped, and skidded vessel packages for your specific needs.
Heater Treaters and Heated Separators
Vertical or horizontal types available, with diameter range from 4 ft. to 8 ft.  Single or dual firetube versions available.  Complete with burner, burner management system (BMS), and accessories.
Test Separators and Bulk Separators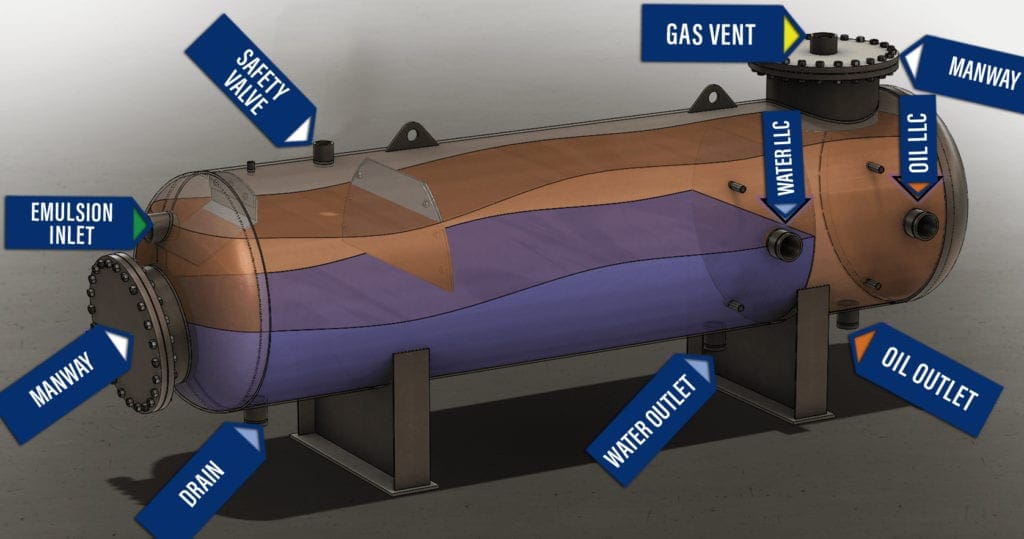 2 Phase vertical or horizontal, and 3 phase horizontal separators available in a size range from 36" diameter to 120" diameter, with pressure ranges from 125 to 2000 psi. (Typical 3 phase horizontal low-pressure separator shown)
Vapor Recovery Towers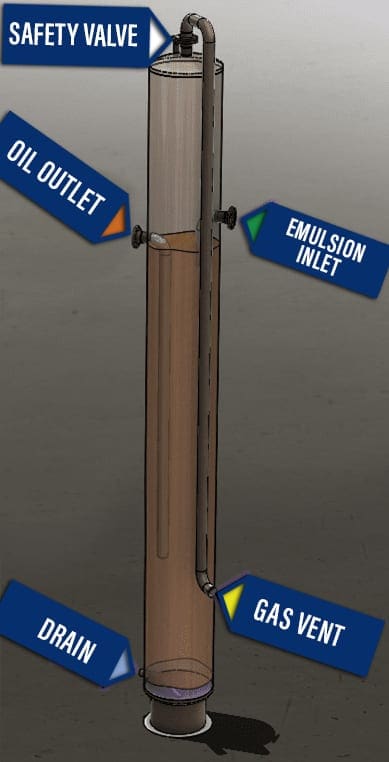 Vapor Recovery Towers are used to extract small amounts of gas that is either trapped in oil or has settled in the top of storage tanks.  VRTs normally operate at a very low pressure and as the gas and oil mixture travels through the vessel the gas particles are extracted and captured either for resale or flare.  Petrosmith can provide our standard design or customize our standard design to match your specific requirements.  Size ranges from 30" diameter to 72" diameter, with height as required by design.  Consult Petrosmith Engineering for your custom application.
Free Water Knock Out's (FWKO) are used mainly to remove any free water being held in the vessel that can cause problems such as formation of hydrates, corrosion or light emulsions that are difficult to break.  FKWO's are most commonly three phase because it can separate gas, oil and any free water.
Nominal Oil/Water Capacity (BBL/Day): From 1610 to 10,035 BBL/Day depending on size and PSI selected
Other vessels and packages available
Gas coalescing filter vessels and packages

Gas scrubbers

Pig / Slug catchers

Fully instrumented and piped / skidded vessel packages to meet customized needs
Petrosmith is equipped with state-of-the-art blast, coat, and paint facilities that spray top-of-the-line coatings according to customer specifications. Our blasting, coating and painting facilities are some of the largest in the industry, allowing for continuous production to allow quality and timely product delivery to our valued customers. Our coating and painting facilities are also temperature controlled, allowing us to operate in all-weather conditions and maintain manufacturer's application specifications throughout the entire coating and painting process.
Petrosmith uses plural-component sprayers that are designed to spray the toughest plural-component materials, guaranteeing accurate and on-ratio spraying. This equipment has intuitive user controls that provides real-time ratio display for ultimate spray control.
Petrosmith offers industry-approved long-lasting coatings from premium trusted brand names like Sherwin Williams, International / AkzoNobel, PPG, Corchem, and others. The coatings are appropriate for use in the presence of salt water, petroleum products and other substances utilized in the production of fossil fuels. 
We provide the highest level of professionalism, quality, safety and expertise in the industry.
Mailing Address
P.O. BOX 6291
Abilene, Texas 79608
West Texas Yard
10512 W County Rd 150
Midland, Texas 79706